Stolen bulldog puppy Charley found after Twitter plea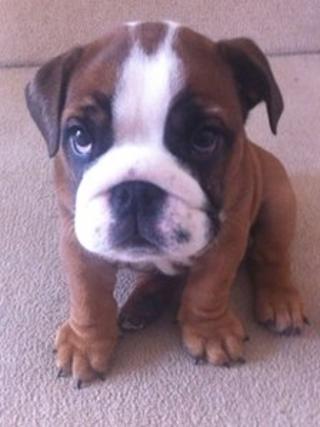 A 12-week-old British bulldog puppy stolen by burglars from a family's Warwickshire home has been returned after a Twitter campaign.
Pedigree puppy Charley was taken from Kelly and Paul Tolin's home in Cawston, Rugby, on 21 October, with thousands of pounds of electrical goods.
Charley was seen in Birmingham by two women who called police, Mr Tolin said.
The couple's pleas to find their pet on Twitter were backed by celebrities such as Julian Clary and Katy Price.
Mr Tolin said: "It's brilliant news - we got to the point where we thought we would never see her again."
He said their six-year-old son was "delighted" the dog had been returned.
He added: "It's like Christmas has come early."