Warwick Racecourse cancels a third of meetings after rain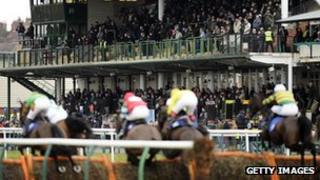 Heavy rain has forced a third of fixtures at Warwick Racecourse to be cancelled this year.
Monday's meeting at Warwick has been abandoned because the track is waterlogged.
The course, which hosts 21 meetings a year, has been forced to call off seven events in 2012.
Clerk of the course Sulekha Varma said the track had been hit harder than before because of "extreme" conditions.
"Certain areas of the track have always drained very well naturally but this year has been so extreme that really any drainage system wouldn't be able to cope," she said.
"Money and finances aside, the safety of the racing participants is my number one priority and what I'm employed to ensure and if I have any doubt over the safety of the track for racing whatsoever then we don't race."
Ms Varma inspected the track at 08:30 GMT on Sunday but found conditions to be unraceable after 11mm of rain fell on Saturday, leaving large areas of standing water.
"We already knew we were not in a position to take much more rain but we actually had more than was forecast," she said.
Nearly 30 flood warnings remain in place across the Midlands, but previous warnings for Warwickshire have been downgraded.