Godiva Festival: Coventry residents to vote on venue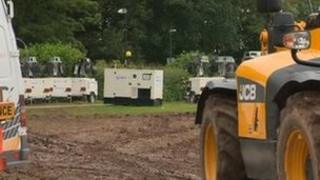 Residents in Coventry are being asked to vote for their preferred location for this year's Godiva Festival.
The annual free event was cancelled last summer because of conditions in the War Memorial Park at a cost of about £450,000 to the city council.
A scaled down replacement festival in Broadgate went ahead in September despite more wet weather.
The authority now wants the public to choose between the park or city centre as the venue for the three-day event.
The council said a city centre festival would have a main stage in Broadgate, catering for up to 8,000 people at any one time, with other stages in Millennium Place, Ironmonger Row and Shelton Square.
Returning to the park, the home of the event for the past 15 years, has the potential to attract a bigger crowd and would offer more of a festival atmosphere.
Residents have until 20 January to cast their vote.