Warwickshire rail upgrades welcomed by user group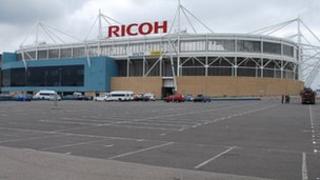 Confirmation that rail services in Warwickshire are to be upgraded have been described as "very good news" by a commuter group.
Network Rail said new stations would be built at the Ricoh Arena in Coventry and Bermuda Park near Nuneaton.
The line between Coventry and Leamington will also be electrified.
Frank Shaw from the Solihull and Leamington Rail Users Association said the plans would make "a huge difference to this area".
The upgrades are part of £37.5bn plan to develop the UK's railway infrastructure over the next five years announced by Network Rail.
Extra trains
Mr Shaw said: "This is very good news and a great improvement.
"The electrification of the Coventry to Leamington line has been talked about for a long time now and I suspect it's not a quick project to get under way, but it's very welcome."
Network Rail said there would be an extra train per hour on the Coventry to Nuneaton line to help ease congestion.
The new stations and the extra trains are due to be in place by 2014, a spokesman said.
Ann Lucas from Coventry City Council said the new station at the Ricoh Arena would help bring in new business.
"We've been campaigning for this for a very long time and its really important as part of the regeneration of the north of the city," she said.
A station was part of the original plan for the £113m Ricoh Arena, which opened six years ago, but plans were rejected by the government.