Charles Bateman's parents campaign for safer crossroads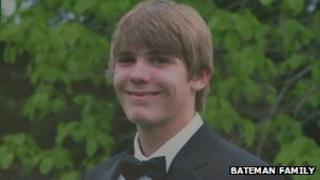 The funeral has been held for a teenager who was killed in an accident near Bidford-on-Avon in Warwickshire.
Charles Bateman, 17, of Solihull, was driving on the B4085 Honeybourne Road when he collided with another car at the Welford Road junction in December.
His parents have begun a campaign to improve the signposting and safety of the crossroads.
Warwickshire County Council said funds are targeted at "hot spots", but they will "enhance the signs" in the area.
'Phenomenal son'
Mr Bateman's father, Terry, said: "We have been absolutely amazed at the amount of people that have spoken to us, have come to our house, who live locally in Bidford-on-Avon, and have said, this crossroads has been a black spot and a fatality spot for many years and nothing has ever been done.
"There has been campaigns to do something about this crossroads, but unfortunately the local authorities feel its not necessary.
"He was an absolutely phenomenal son, I know every parent would say that, but he had the biggest smile, he had no envy in his body, loved working on farms…"
He added: "What other people now have to be aware of... That crossroads is dangerous and I want my son's death to enhance what needs to be done at that crossroads."
Warwickshire Police said that Charles was driving a blue Ford Fiesta when the collision with a grey Land Rover Freelander took place at the junction with Welford Road on 22 December at 19:00 GMT.
He was taken to the University Hospital Coventry and Warwickshire, but later died from his injuries.
A Warwickshire County Council spokesperson said: "There has only been one accident in the previous five years at this junction. Our funds have to be targeted at hot spot areas with at least six or more accidents in the same period.
"However, we have plans to enhance the signs, improving their visibility on the approach to the junction."