Ricoh Arena: Coventry council votes to back £14m loan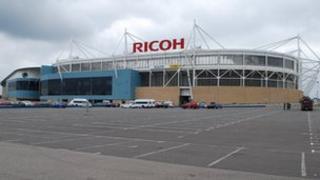 Coventry City Council has voted to bail out the company that runs the city's Ricoh Arena with a £14m loan.
Arena Coventry Limited (ACL) runs the stadium on behalf of the council and the Alan Edwards Higgs Trust charity.
Coventry City Football Club has been in a long-running dispute with ACL over unpaid rent which last month stood at £1.1m.
Councillors voted unanimously in favour of issuing the £14m loan to secure the venue's future.
The authority has said it is now effectively ACL's banker, a move which allows ACL to pay off a previous loan arrangement with its existing bank.
The leader of the Labour-run city council, councillor John Mutton, said: "We have taken a decision that will benefit city taxpayers and secure the future of one of our most important and best loved public assets that brings great benefits to Coventry people.
"Not many councils would have done what we've done, but I've always believed that councils can - and should - be prepared to take bold and radical decisions when they are the right thing to do.
"It's up to ACL and the club now to find a way forward on the rent issue.
"We know that ACL is totally committed to doing this, and we hope the club's owners will be committed to doing so, too."