Rolls-Royce Ansty to lose 378 defence jobs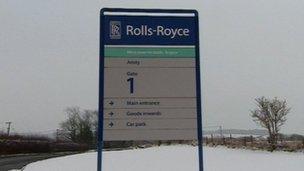 Rolls-Royce is to close its UK defence operations in Ansty, near Coventry.
The union Unite has blamed government defence cuts for the closure, which will mean 378 job losses.
The company, which employs about 800 people at Ansty, said it hopes to avoid compulsory redundancies.
Unite national officer for aerospace and shipbuilding, Ian Waddell, said: "The underlying reason for the job losses is the government's defence spending cuts."
A spokesperson for Rolls-Royce said: "We are in consultation with trade unions over reductions in our defence workforce at Ansty.
"We hope to achieve this without compulsory redundancies.
"In a large and complex company there is a continuing need to align resource and customer demand."
A spokesperson for the Ministry of Defence said it had nothing to add to the company's statement.
A worker leaving the site told BBC Midlands Today the latest announcement "makes the site look very insecure".
Another said he hoped people laid off could be "placed to other Rolls-Royce sites to find them jobs".
In an email to MP Geoffrey Robinson the company said it proposed to "progressively run down Defence Services work carried out at Ansty by a combination of natural termination of legacy programmes or re-location of on-going work to other facilities."
It added: "This is expected to take a number of years."
Mr Robinson, MP for Coventry North West, said: "I'm very shocked, there was no prior warning or indication of job losses.
"We've got to resist this in any way we can. It's very bad news."
He has contacted Business Secretary Vince Cable and Unite for an urgent meeting.
The proposed reductions are in response to an internal study that reviewed the Rolls-Royce defence aerospace business in Ansty and Bristol.
The site at Ansty, six miles to the east of Coventry City Centre, is also a base for civil aerospace business which is not expected to be affected.
Related Internet Links
The BBC is not responsible for the content of external sites.