What Massey Ferguson workers did after factory closure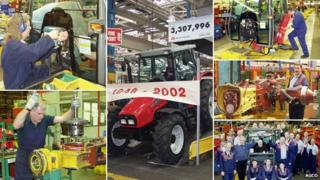 Coventry has had its fair share of boom and bust, with large scale manufacturing coming and going in and around the city.
But when big factories like the Massey Ferguson plant close their doors for the final time, smaller doors and new opportunities do open up.
Some 10 years ago it was announced that no manufacturing jobs would be saved at the tractor factory where over three million machines had rolled off the production line between 1946 and 2002.
Owners Agco had already ceased production at the cost of 1,000 jobs but hopes that about 100 people would stay making tractor components were dashed on 13 February 2003.
By July that year only administrative workers remained in the city.
'Like Mary Celeste'
Tony Edge thought he had a "job for life" at the Banner Lane factory.
The fork-lift truck driver admits he was frightened when he first heard about redundancies.
He said: "I was 54 and I didn't think I'd work again.
"In that 12 months it's like having the sword of Damocles over your head.
"I got shingles - that's how it affected me but it affected other people in other ways."
After the last tractor was produced on Christmas Eve 2002, the majority of the workers left, although Mr Edge and service manager Graham Holyfield were among those to stay on.
Mr Holyfield said: "It was disheartening to see somewhere that had been so vibrant just so isolated.
"The day after I finished production there were still coats hanging on lockers and half drunk cups of tea.
"It was just like the Mary Celeste.
"The roof started to leak and very soon it started to deteriorate."
Both men were determined not to be left on the scrapheap and found new work.
Eight years ago Mr Edge became a gardener for a hotel in Stratford-upon-Avon.
While he admits he misses the camaraderie of factory life, he has noticed some benefits.
He said: "My wife said I became a person again after I left Massey's, I didn't go home tired."
Retirement looming
Mr Holyfield got together with five former colleagues, including some who had gone out to France where Massey Ferguson production had moved to in order to help train the new workforce.
"Having lost some of the pension it was more important that I had some work," the former service manager said.
"I put a business plan together for producing gearboxes to support the field and the three million tractors that had been produced in Banner Lane."
And so Agri Transmissions in Nuneaton was created, making use of machinery from the old factory.
"I feel very proud of what we've set up," Mr Holyfield added. "We've built 700-800 gearboxes and we've not had one returned.
"There is a considerable amount of mickey taking which is a typical shop floor and obscenities are thrown at one another but it's all in good spirit."
And while Mr Holyfield feels he has been "very fortunate" to have made a go of the venture, the 68-year-old is finally looking forward to retirement.
He said: "I decided to have a bit of a collapse in October and ended up with a pacemaker fitted.
"I've decided now's a good time to go.
"The company's in good health, perhaps a bit better health than I am so I'll go and have some retirement and enjoy some days fishing and walking along the beach in Burnham-on-Sea."
Agco moved its administrative workers from Banner Lane to nearby Abbey Park in Stoneleigh, Warwickshire, in 2006 and employs about 500 people at its hub for Europe, Africa and Middle East markets.
The former Banner Lane site was turned into hundreds of new homes with its landmark 16-storey tower demolished last summer.