Daw Mill closure: Vow to help hundreds of miners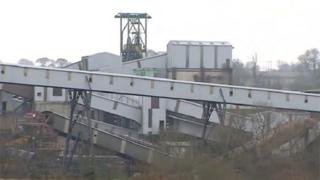 Councillors have pledged to do all they can to help the hundreds of miners who have lost their jobs at Warwickshire's last-remaining deep mine.
UK Coal said on Thursday it needed to shut Daw Mill Colliery after a "ferocious" fire, which started last month and showed no signs of stopping.
About 100 of the mine's 650 workers are due to be redeployed by UK Coal.
North Warwickshire Borough Council leader Mick Stanley said it was a "big blow" to the area.
An emergency meeting was held at the council on Thursday to discuss what would happen.
Officials had previously been holding meetings on how to help the miners who live in the area.
Full impact
Mr Stanley said the authority was trying to work out the full impact the mine closure would have on the area.
He said: "It's not just the 650 people who've lost their jobs, it's the other firms involved too.
"We've got haulage firms that work with the colliery, people who provide services to the mine, local shops and other things."
UK Coal said a small team would remain on site to secure the mine over the coming months, but the majority of its 650 staff would be made redundant.
Conservative Energy Minister John Hayes has also offered to meet some of the miners and UK Coal to talk about what support can be given.
He said: "Those that can have moved on… but those that aren't able to be accommodated by the company, I want to give as much support as possible.
"I've been involved with Job Centre Plus, I've been involved with the Department of Business, Innovation and Skills - I want to put as much effort as we can into helping these people to retrain if that's necessary - to get other jobs, as much support as we can."
Over the past year, the company has announced restructuring programmes at the mine and in August it said it was "unlikely" the mine would remain open after 2014.
About 56 million tonnes of coal is estimated to remain underground.