Coventry speedway rider Adam Roynon injured in crash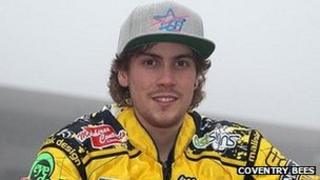 Coventry Bees speedway rider Adam Roynon has been taken to hospital with head injuries after crashing in the first meeting of the season.
The meeting with Birmingham Brummies in Brandon, Coventry was delayed as paramedics treated him for concussion.
The crash happened after he came off his motorbike on a bend and was hit by another rider.
He was alert and talking following a brain scan at Coventry and Warwickshire University hospital, team doctors said.
They said he would stay in hospital for another 10 days under observation.
In a statement on Twitter, Mr Roynon said: "I'm doing OK thanks guys!! Thank you so much for the well wishes. It means ALOT!! [sic]"
Team manager Gary Havelock said: "It was an awful looking crash.
"Josh [Auty] unfortunately was trying to go round him at the time and as he came off he just couldn't miss him."
Mr Roynon, 24, had returned to ride for Coventry Bees this season after recovering from a broken leg he sustained in a crash in October.
He suffered a blood clot on the brain and a broken neck in an accident while riding in 2009.