'Hanging' Thatcher email: Councillor Dave Chater stands by remarks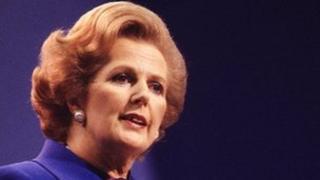 A Coventry Labour councillor says he stands by comments made about former Prime Minister Margaret Thatcher that have upset some other councillors.
Dave Chater's remarks were made on a leaked internal email discussing whether the council house's union flag should fly at half mast.
Mr Chater said: "Would have preferred to see her hanging from a flag pole in the early 80s."
A Conservative councillor said he hoped for more respect for Baroness Thatcher.
Mr Chater was responding to an email sent from council leader John Mutton to other Labour councillors over whether to lower the flag for next Wednesday's funeral.
Mr Mutton had joked in the initial email that a flag bearing "a happy smiling face" should be flown instead.
The leader of the authority has since expressed a wish to "retract the original comment".
'Raw end'
But Mr Chater said he had "no problem" making his remark.
He said: "It was for internal use and I'm sure I'm not the only person in Coventry back in the 80s who would have loved to seen her hanging from a flagpole.
"Of course nobody would have hung her from a flagpole and that's the point.
"Back in the 80s the majority of people who were experiencing the raw end of Thatcherism would have had the same sentiments. And that's when I'm talking about.
"This email, I pressed the wrong button, it went to Conservative councillors, straight down to Conservative head office who then contacted the Daily Mail.
"Let the lady rest in peace and let's be done with it."
Councillor John Blundell, deputy leader of the Conservatives, said: "I find it very sad that this sort of exchange should have happened.
"I would have hoped that people of all political persuasions will be respectful of the passing of a former prime minister who in my opinion is the greatest peace time prime minister that has ever lived.
"I would hope that the Labour councillors concerned would show respect and not say anything about the flag flying at half mast on Wednesday as is the normal protocol.
"If it [the flag] wasn't flown at half mast on Wednesday I would expect a lot of people to comment."