Coventry Millennium Clock: Artist's legal action threat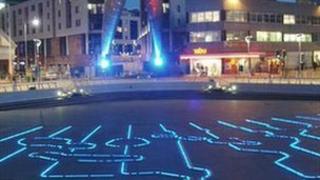 The artist who designed the Millennium Clock outside the transport museum in Coventry has threatened legal action in a bid to get it restored.
The city council removed the £5.5m clock from Millennium Place for repairs last April and it remains in storage.
The authority insists it will be put back but said construction projects in the area had delayed the work.
Artist Francoise Schein aid she was disappointed because the council hade not discussed the issue with her.
Ms Schein said: "I can give them a little bit more time because it's a complex piece and, frankly, to put it back up will take very serious competence and engineering and I'm not sure that they actually realised what they had done when they took it apart.
"I do have a lawyer who's located in London and he knows about it.
"I will contact him because at some point the city of Coventry has to... either put it back or give it to another British city who'll be more than happy to receive a great present like that.
"They cannot just abandon a project."
'Email exchanges'
The council said removing the clock from the ground had made it easier to hold events during the Olympics and at Christmas.
Martin Yardley, director of city services and development, said delays to restore the artwork had been caused by the construction of its Heatline scheme, to heat buildings in the city, and uncertainty over redevelopment plans for Coventry Transport Museum
Mr Yardley said: "We do have a few email exchanges but we've been reluctant to lift the phone to her because we've got the situation where we really don't know about the transport museum.
"In terms of Heatline, [it's about] deciding where the route is going and whether it's cutting into the transport museum or not."