'No Eastern Europeans' fishing signs man escapes charges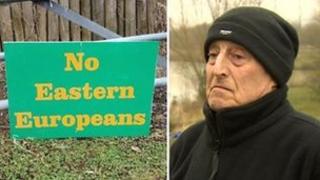 Police have said the owner of a fishing lake will not be charged for putting up signs banning Eastern Europeans.
Eddie Whitehead, from Dog Lane Fishery in Napton-on-the-Hill, Warwickshire, said he believed people from Eastern Europe were taking fish to eat instead of returning them to the lake.
He put three signs up after restocking the carp lake at a cost of £10,000.
Police said they investigated complaints the sign was racist but Mr Whitehead will not be charged.
The 75-year-old said police officers visited the fishery and ordered him to remove the signs.
He said he was not a racist and the fishery had a strict catch-and-release policy.
New "Fishery Watch" signs, provided by Warwickshire Police, have now been installed, stating anyone caught stealing fish could face a maximum fine of £5,000.