Ricoh route 'needs extra carriages' say Nuneaton rail users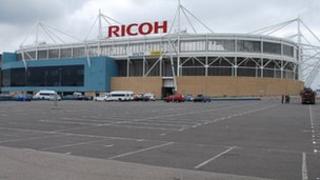 Warwickshire rail users are calling for extra train carriages on the line between Coventry and Nuneaton when two new stations open next year.
London Midland currently runs an hourly service between Coventry and Nuneaton, but with only one carriage.
The new stations at the Ricoh Arena and Bermuda Park are part of a £37.5bn plan to develop the UK's railway infrastructure over five years.
London Midland said it was discussing options with Coventry City Council.
Mark Whitelegg from the Nuneaton Rail Users Group said the train is "often overcrowded" and is concerned there should be at least one extra carriage.
He said: "It always takes a while for train operating companies to move their stock around or get additional stock so they really need to be working on that now and giving us a firm commitment that they'llactually double the size of the train."
In January, Network Rail said there would be an extra train per hour on the Coventry to Nuneaton line to help ease congestion.
In a statement, London Midland said: "We are still in discussion with the council regarding a range of options and, as such, nothing has yet been confirmed."
The new stations and extra trains are expected to be in place by 2014.