Coventry hospital pays over Frank Golby lung cancer death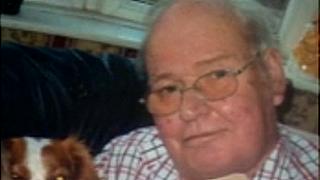 The family of a man who died after his lung cancer was misdiagnosed as a chest infection by a Coventry hospital has been awarded compensation.
Frank Golby, 65, from Whoberley in Coventry, died on 18 February 2012 at the city's University Hospital.
Solicitors for the family said a CT scan, which showed a tumour on his left lung, was overlooked by doctors.
The hospital has apologised to the family and paid them a five figure out-of-court settlement.
Mr Golby was referred to the University Hospital Coventry in May 2010 after visiting his GP with a persistent cough.
Lime Solicitors, which is representing the family, said a CT scan revealed a 1cm nodule on his upper left lung but this was missed by doctors.
He went back to the hospital a number of times with breathing problems and anaemia but the scan was never reviewed, the solicitors said.
After being readmitted on 17 February 2012, Mr Golby underwent a chest X-ray which solicitors said revealed the cancer on his lung had grown to five times its original size.
He died the following day.
'Ten precious years'
Neil Clayton, from Lime Solicitors, said an independent medical expert concluded if the CT scan had been reviewed Mr Golby's life could have been extended by about 10 years.
"At this point, the cancer was highly treatable and a combination of surgery and either radiotherapy or chemotherapy could in all likelihood have extended his lifespan," he said.
Mr Golby was married to Sandra, 62, and the couple had a son and daughter and two grandchildren.
His son, Mark, said: "If I had known just how poorly he was, I could at least have had one last opportunity to see him.
"The hospital had reassured my sister that there was no need for the family to dash up to see him as he was stable and would hopefully be home within a couple of days but sadly he died the following morning.
"No-one wants a doctor to tell them they have cancer, but in dad's case, hearing those words two years earlier could have given him 10 more precious years with his family."
The University Hospitals Coventry and Warwickshire NHS Trust offered a full apology to Mr Golby's wife and family.
Meghana Pandit from the trust said: "While errors of this kind are extremely rare, it doesn't detract from the pain and distress this has caused.
"We have reviewed how the mistake was made and have tried to learn lessons from it.
"We hope that the financial settlement can help in some way but we recognise it will never compensate Mr Golby's family for their loss".