Coventry City Council plans to build £40m new office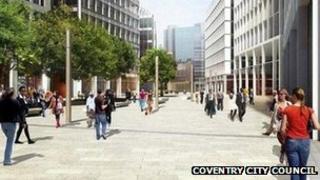 Coventry City Council plans to re-home many of its workers in a new office as part of a £59m scheme to reduce the number of buildings it operates from.
The authority said the new building, part of the proposed Friargate business district near the city's railway station, would cost £40m.
A further £19m is earmarked to develop existing sites and create a new 'one-stop-shop' for residents in Broadgate.
Councillors would still use the council house as their base under the plans.
'Stimulate economy'
The number of separate council offices across the city would drop from 27 to nine and the authority said the project would cost less than repairing and refurbishing its current stock of buildings.
It would also see the council become the anchor tenant for the Friargate scheme that will be linked to the rest of the city centre by a "bridge deck" over the ring road.
The Labour leader of the council, Anne Lucas, said: "We're the country's 13th largest city with the 47th largest shopping centre. That's not good enough.
"This plan is value for money for Coventry taxpayers and will send the clearest message to developers for decades that the city is open for business and prepared to do what it takes to stimulate the local economy."
A council spokesperson said 70 fewer staff would be needed in the new building if the plans were passed.
Councillors will discuss the proposals next month and construction work could begin next year with staff moving into the new offices by 2016.