Sgt Maj Augustus Jennings added to Rugby war memorial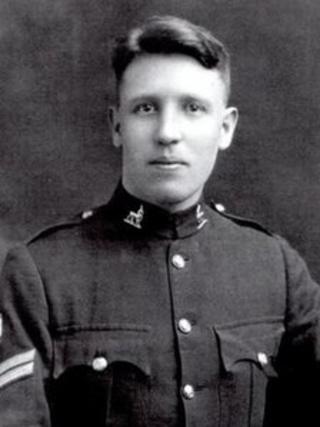 The name of a World War II soldier from Warwickshire, who died covering a grenade to save others, is to be added to a war memorial in his home town.
Company Sgt Maj Augustus Jennings was one of about 100 British soldiers killed in the Wormhoudt massacre, near Dunkirk in France, in 1940.
His name will be added to Rugby war memorial in a service on Saturday.
His family believe his name was originally left off because the Army kept details of his death secret.
His daughter, Diane Norton, 76, said: "We didn't know the circumstances until 1988, it was part of the 70th year secrecy order and it was under wraps. The story shouldn't have been released until 2022.
"It started to creep out in the 80s because Jeff Rooker, who was then Perry Barr MP, had one of the survivors in his constituency and he wanted the story out there and told."
'Sacrificed his life'
Ms Norton, from Tavistock in Devon, said she only realised her father's name was not on Rugby war memorial when she visited it in 2005.
She said she had only recently campaigned to get it added after the death of her sister.
Sgt Maj Jennings was a soldier in the 2nd Battalion Royal Warwickshire Regiment, which surrendered to German forces along with troops from the Cheshire Regiment, the Royal Artillery and French troops.
They were taken to a barn in La Plaine au Bois near Wormhout and Esquelbecq on 28 May 1940, where SS soldiers threw in stick grenades.
Sgt Maj Jennings threw himself on top of one of the grenades to try to save other soldiers.
Chris Worman, from Rugby Borough Council, said it was "only right" that Sgt Maj Jennings' name should be added to the memorial.
"He sacrificed his own life to save those of his platoon and although the SS thought they'd killed everybody, there were a couple of survivors that lived to tell this remarkable story," he said.
"The actions of this particular group and others, of course, meant that more than 360,000 troops could be safely evacuated from the beaches, which ultimately was seen as a success."