Daniel Pelka murder case: Victim 'stole food at school'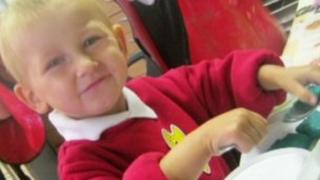 A four-year-old boy alleged to have been starved and murdered by his mother and stepfather would steal food at school, a court has heard.
Jurors at Birmingham Crown Court were told Daniel Pelka's lunchbox contained half of a sandwich when he was sent to Little Heath Primary School, Coventry.
A member of staff at the school said Daniel would "eat anything he could get his hands on".
His mother, Magdelena Luczak, and her partner, Mariusz Krezolek, deny murder.
The pair, who came to Britain from Poland in 2006, also deny causing or allowing his death but have both admitted a charge of child cruelty.
The four-year-old is alleged to have died from a head injury following a campaign of "incomprehensible" cruelty by Ms Luczak, 27, and Mr Krezolek, 33.
'Stood out instantly'
Teaching assistant Amy Tokely broke down in tears when she told the court Daniel wanted to eat "muddy and dirty" pancakes which had been on the floor.
Ms Tokely said: "Daniel stood out from the other children within the first couple of hours of me being in the classroom.
"I had noticed that he helped himself to fruit [from a fruit bowl] a number of times and he kind of stood out instantly."
When asked by prosecutor Jonas Hankin QC what the boy had in his lunchbox, Ms Tokely replied: "Initially it was a slice of bread cut in half with ham inside.
"He would have a drink and on occasion he would have perhaps some loose crisps in a bag."
The witness added that he eventually got a full sandwich and never failed to finish his lunch.
'Losing weight'
The court was told he was seen looking for more food in other schoolchildren's lunchboxes which prompted teachers to lock them away in an office.
Ms Tokely said she noticed a change in Daniel's appearance following the February half-term break prior to his death in March 2012.
"He appeared to be losing weight. His skin was very pale and his hair had gone straw-like," she said.
"It was noticeable. His clothes were hanging off him and his attempts to get food became desperate."
The trial continues.