Daniel Pelka murder case: Boy 'ate food from bins'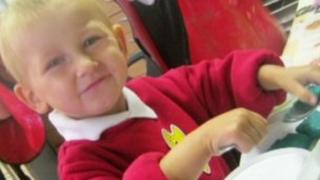 A four-year-old boy who was allegedly starved and murdered by his mother and stepfather tried to eat food from bins at school, a court has been told.
A teaching assistant at Little Heath Primary School in Coventry said Daniel Pelka picked out the core of a fruit from a bin and "started to eat it".
It is alleged that Daniel died from a head injury in March 2012 following a campaign of "incomprehensible" cruelty.
His mother, Magdelena Luczak, and her partner, Mariusz Krezolek, deny murder.
The pair, who came to Britain from Poland in 2006, also deny causing or allowing his death but both have admitted a charge of child cruelty.
'Sand around mouth'
A number of staff members from the school gave evidence on day three of the trial at Birmingham Crown Court, including teaching assistant Beatrice O'Brien who described Daniel's behaviour around bins.
"We watched him walk up to the bin, look to see if anyone was looking and pick out either the core of an apple or a pear and he started to eat it," she said.
Ms O'Brien told jurors she found him "trying to get the last bit of yoghurt out" of an empty tube of yoghurt in another bin.
The problem became so frequent that Ms O'Brien said teachers stopped punishing him and began explaining to him what he was doing was wrong.
The court also heard the four-year-old had tried to shell and eat "dried kidney beans" from the children's sand table on the last afternoon he was at school.
Ms O'Brien said: "He had sand around his mouth... [but it] didn't really stick - there wasn't much saliva and his mouth seemed very dry.
"I was very concerned. He did not look at all well and he had lost a lot of weight."
Another teaching assistant, Nicola Griffiths, said Daniel had tried to eat beans that had been planted in soil as part of an experiment.
She also told jurors he had turned up to school with injuries to his nose and forehead.
'Untruthful account'
Earlier, head teacher Darren Clews said Daniel did not mix with other children and "sat on the periphery of groups".
He said Ms Luczak and Mr Krezolek appeared "upset" when he met them at school on Monday 5 March, two days after Daniel had died.
Mr Clews said Ms Luczak informed him that Daniel had been off school on the Friday prior to his death because he had been unwell and that she found him "unconscious" in bed.
He told prosecutor Jonas Hankin QC that Ms Luczak told him: "It was Friday night into early Saturday when she had checked on him and found him unconscious, and she called her partner and he started trying to resuscitate Daniel - he acted out the chest compressions to me."
The court had previously heard Ms Luczak sent Mr Krezolek a text message when Daniel was unconscious.
The message, translated from Polish, is alleged to have read: "He'll get over it by tomorrow. There is no point to stress ourselves out and to call an ambulance because that will cause proper problems."
Ms Luczak's barrister, Stephen Linehan QC, said: "It's accepted she gave an untruthful account to the headmaster."
The head teacher confirmed the boy had missed 28-and-a-half days of school between 14 September 2011 and the date of his death.
The trial continues.