London Taxi Company offering new vacancies at Coventry site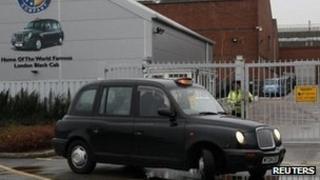 Workers who lost their jobs at a Coventry-based taxi maker are being given the chance to apply for about 30 new vacancies.
The London Taxi Company, formerly LTI, was sold to Chinese firm Geely in February after owners Manganese Bronze Holdings went into administration.
About 99 out of 176 jobs were lost after the move into administration.
The jobs are at the Holyhead Road site and Unions say 77 former workers are being sent letters about them.
Thirty-two new vacancies will be offered to about 77 ex-production team members, with a view to "low-level production" starting in mid-August.
Peter Johansen, vice president of The London Taxi Company, said: "We've already recruited 38 employees this year and we've got 58 in total that we're going to be taking on in the coming months [across the UK].
"Thirty -two of those will be in production in the Coventry factory in the next couple of months, so it's good news."
He said full production would hopefully begin by the end of September.
"We've sold over 200 new cabs in the UK in the last couple of weeks and we've got a five-week waiting list for a new cab," he said.
"Internationally it's going to be a record year for us because we've already taken orders for over 800 vehicles and there's many more orders pending."
Peter Coulson from the Unite Union said he is "quite optimistic" that there will be more jobs in the future.
He said: "In terms of the new jobs, they're totally new engagements, but they will be actually taken on to previous rates of pay and also the hours of work… so its's very, very good news."