Daniel Pelka murder trial: Mother 'abused by partner'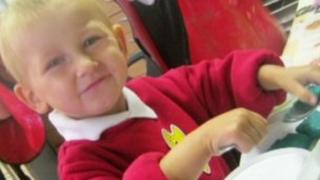 A mother accused of starving and murdering her son told a health worker that her partner had tried to strangle her, a court has heard.
Daniel Pelka, four, died from a head injury in March 2012 after an alleged campaign of "incomprehensible" cruelty.
His mother, Magdelena Luczak, and her partner, Mariusz Krezolek, deny murder.
A health worker told Birmingham Crown Court that Ms Luczak claimed she had been assaulted by Mr Krezolek after she discovered he was having an affair.
Mr Krezolek, 33, and Ms Luczak, 27, who came to Britain from Poland in 2006, also deny causing or allowing Daniel's death, although both have admitted a charge of child cruelty.
'Wasn't too happy'
The health worker, who cannot be named for legal reasons, told the court that when she visited the couple's home in July 2011, Ms Luczak told her she had been subjected to domestic violence by her partner.
She said Ms Luczak told her Mr Krezolek had tried to strangle her, and also pulled her hair.
The health worker told the jury: "She said she found out that he was having an affair and that she had found text messages.
"She wasn't too happy about it and that's how the argument started."
The woman told the jury Ms Luczak had declined help from an organisation which assists victims of domestic violence, saying she was "trying to sort things out" with Mr Krezolek.
Under cross-examination from lawyers representing Mr Krezolek, the woman said she had not seen any marks on Ms Luczak's neck.
The trial continues.