Riding 31 miles in Coventry on Europe's longest bus route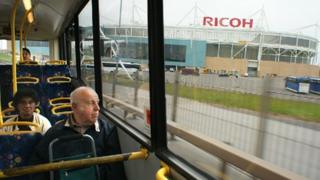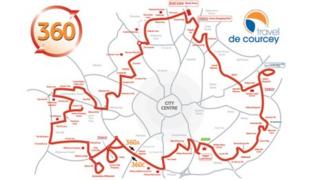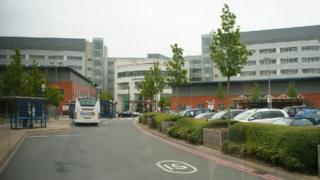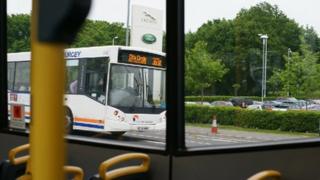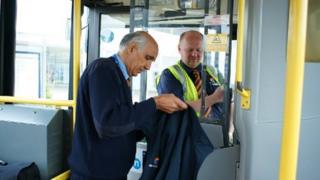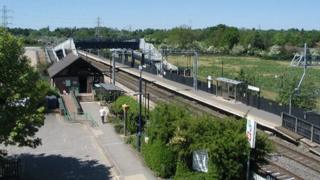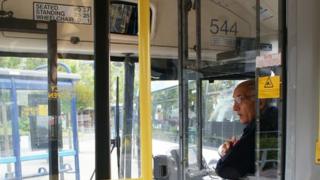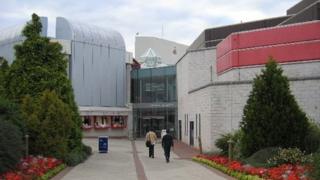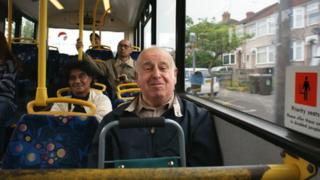 Running full-pelt for a bus in the Coventry rush hour, bouncing my camera bag on my hip, I feel like a pioneer, of sorts.
I am one of the first people to ride all 31.5 miles (50km) of the new 'longest continuous urban bus route in Europe'.
For two and a half hours, at a cost of £1.80, the new 360 City Circle is my window on the world and strangers, going about their business, are my companions.
Travel de Courcey bus driver Krysztof Hemperek shares my enthusiasm. "This is now the longest route in Europe, you know", he smiles proudly as I board.
He has lived in Coventry for eight years and likes driving the new route around the city he knows well.
This is despite him spending a lot of the journey reassuring slightly confused passengers the service is little changed from the 801 and 701 routes it has replaced.
One of these is Gemma Booth, who is visually impaired. She said: "I always ask the driver, I was just told that if I got on the wrong one ['A' anti-clockwise instead of 'C' clockwise] I could be on it for over two hours."
Leisure drive
Jenny Reid, who works at the University of Warwick, is delighted she can now visit her mum without changing buses.
She said: "It's really useful, not many buses go round the city without going into the centre. I'll use the whole route because Mum lives on the other side of the circle, it's really good."
Sonia Kunari uses the bus to get into work but is also curious to see the circuit. She said: "I'd stay on the whole route to see where it goes, I'd enjoy the travel experience, maybe on a Sunday when there's no traffic."
Born out of practical need, the route is not exactly a picturesque leisure drive but, nevertheless, it provides an unusual glimpse into Coventry's economic story.
From the expanding businesses of Jaguar Land Rover and the University of Warwick, near the demolished Massey Ferguson factory, past various business parks and shopping centres and past the Ricoh Arena, the route takes in small-scale electronics and engineering works as well as the mammoth employer of the University Hospital Coventry.
Passenger Sarah Rabone looks out at the industrial landscape and says: "It's good that Coventry, the creator of buses, now has the longest bus route too. It was a long service before but now the driver's going to feel knackered."
As the bus twists and turns through countless residential streets, the city's tale unfolds in architecture, from Victorian grandeur to endless 1930s bay windows, to post-war necessity and modern dolls-house-style expansion.
Cult status
The pubs along the route provide another measure, from the university hives, still showing signs of the previous night's fun, to the faded boozers of George Shaw's Tile Hill and the Chinese and Persian restaurant conversions further around the circuit.
"I don't think I'll be tempted to go all the way round for two and a half hours", said Jean Heatherton on her way to Arena Park Library. "It would have to be a very rainy day for me to consider it."
Fellow passenger Sheila Roughton adds: "It doesn't bother me that it's the longest, but it's a good route and it will please a lot of people. There are so many places you can go to easily now."
Time will tell whether the 360 will attain the cult status of Birmingham's number 11 outer circle.
At 26 miles (42 km) the 11 had, until now, been Europe's longest urban route since 1926, inspiring songs, stories and an annual calendar.
Jason Currie, leaving hospital with his six-year-old son, said his only hope for the service was that it runs on time. "The 801 was always at least five minutes late, though", he laughed. "So, I guess we're used to that now."