University of Warwick students sit-in over education changes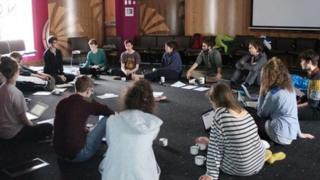 Students at the University of Warwick are staging an "indefinite" sit-in over changes to higher education.
About 20 members of Protect the Public University (PPU) have occupied the university council chambers since Friday.
A spokesperson said the group wanted to start a dialogue on the "government's radical restructuring" of the system.
Peter Dunn from the university said staff only responded to elected students through the regular channels.
The protest group criticised the rise nationally in tuition fees and student debt.
In a letter, it also condemned a £42,000 pay rise for the university's vice-chancellor, Prof Nigel Thrift - taking his salary to £316,000 - which the university confirmed took place in 2011.
'Self-elected students'
"We wanted to occupy the council chambers because they are the symbolic heart of university governance which we feel excluded from," a spokesperson for the group said.
"We're using the place where the central decision making body meets to start a conversation and we're prepared to stay here indefinitely."
Mr Dunn said: "We're not concerned, we've had occupations in the past and we'll have them in the future - they're not unusual.
"We always encourage students to use the regular channels to discuss issues that are important, but through elected bodies not self-elected students."
He added the occupation was "under observation" and the group had been told it was not entitled to be in the chambers.