Daniel Pelka murder: 'My son was healthy' says father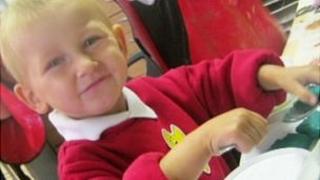 The father of a four-year-old boy who was allegedly starved and murdered by his mother and stepfather has told a trial his son was a "healthy" child.
Daniel Pelka died from a head injury in March 2012 in Coventry after an alleged campaign of "incomprehensible" cruelty.
Eryk Pelka told Birmingham Crown Court his son had eaten without difficulty during the first year of his life.
Daniel's mother Magdelena Luczak, 27, and her partner, Mariusz Krezolek, 33, both from Poland, deny murder.
The pair are alleged to have murdered the primary school pupil, who was pronounced dead in the early hours of 3 March last year after paramedics were called to his home.
Giving evidence at the trial, Daniel's father said he left Ms Luczak's home in Coventry to return to Poland in 2008 after a series of "fierce" arguments.
'Really chubby'
Mr Pelka, who worked as a lorry driver, told the court: "Daniel was a normal child, he was healthy and he was not neglected.
"Even his granny said, taking into consideration him drinking English milk, he was really chubby."
He said Daniel had never had any unusual eating patterns and had grown, and put on weight, normally.
During the four-week trial, Dr Karen McLachlan told the court she had been "horrified" when she first saw Daniel's body at a mortuary on 5 March last year.
He had weighed less than 24lb (10.7kg), which was 9lb (4kg) less than he weighed in January 2011.
Under cross-examination by Nigel Lambert QC, for Mr Krezolek, Mr Pelka said Ms Luczak had been aggressive towards him during their relationship.
Speaking through a Polish interpreter, Mr Pelka said: "She was shouting and calling me names and she was trying to hit me as well."
On one occasion, Mr Pelka said Ms Luczak had grabbed a knife while they were both drunk at a party and he had contacted the police.
Mr Pelka told the court he had ended the relationship with Ms Luczak when he found out she had cheated on him.
Mr Krezolek and Ms Luczak have admitted child cruelty, but deny charges of murder and causing or allowing Daniel's death.