'Monster' guilty of sexual and violent assaults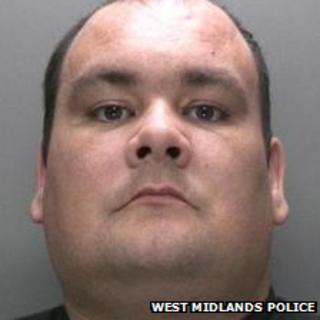 Police have described a man convicted of a string of violent and sexual assaults, who threatened to set fire to three of his victims, as a "monster".
Karl Clay, 39, from Wood End, Coventry, was found guilty of 13 out of 19 charges, including two counts of raping a child under 13.
Clay's violent and sexual assaults on 10 victims spanned nearly 20 years, West Midlands Police said.
He was remanded in custody and will be sentenced in September.
'Poured petrol over victims'
Det Insp Christopher Hanson said the 39-year-old's "horrendous" offences first came to light when two victims, now teenagers, broke their silence two years ago.
Mr Hanson said: "In 2005 he poured petrol over three of his victims, including two children, and threatened to set them alight by repeatedly flicking a lighter next to them.
"One woman told how Clay tried to suffocate her with a pillow, whilst another disclosed to officers how he held her head in a bath full of water to try and drown her."
"The victims showed commendable bravery in coming forward and confiding the abuse during interview."
At Warwickshire Justice Centre in Leamington, Clay was also found guilty of two counts of rape, two counts of actual bodily harm, attempted rape, indecency with a child, indecent assault and putting a person in fear of violence.
In addition he was convicted of threats to kill, causing a child under 13 to engage in sexual activity and putting a person in fear of violence by harassment.