Russell Joslin death: BBC managers 'must be held to account'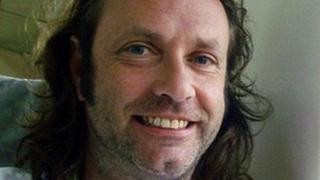 The father of a BBC journalist who killed himself has said the corporation should have taken stronger action against managers following his death.
Russell Joslin, 50, a BBC Coventry and Warwickshire reporter, died in October.
An inquest heard he killed himself after becoming dissatisfied at lack of career progression and complaining of being sexually harassed by a colleague.
The BBC has said managers would be given improved training in bullying and harassment and mental health.
Mr Joslin's father Peter said people had not been held responsible for "mistakes they had made".
Peter Joslin, the former chief constable of Warwickshire Police, was speaking to the Victoria Derbyshire programme on BBC Radio Five Live.
He said: "[Russell] didn't get a great deal of sympathy from people who were his immediate superiors and I think that I will always hold that against them.
"They are holding down positions where I think perhaps they might not have learnt their lessons in Russell's case and I wouldn't want this to happen to any other people.
"I would like to see that people are held responsible for the mistakes they have made."
'Right direction'
An inquest on Friday found Russell Joslin died at Warwick hospital from asphyxiation, three days after walking in front of a bus in October.
A verdict of suicide was recorded by coroner Louise Hunt.
Ms Hunt said there were many factors surrounding his death, including work dissatisfaction and his mental state, but it would be wrong to attribute blame to a single one.
She ruled the identity of the woman accused of sexually harassing him could not be revealed.
A statement from the BBC released after the inquest said: "The BBC extends our deepest condolences to Russell's family, friends and colleagues.
"We apologised unreservedly at the time of the Granger Report at the way the BBC handled Russell's concerns and we apologise again to Russell's family, friends and colleagues at this difficult time."
The BBC added it had started a confidential bullying and harassment helpline for staff.
Peter Joslin said: "I think it's a move in the right direction I'm just surprised that an organisation like the BBC hadn't gone that far before and that Russell had to lose his life to bring it about.
"We have been very impressed with the attitude the BBC has taken in what they are doing to make sure it doesn't happen to someone else's son."