Shakespeare's last home in Stratford-upon-Avon to get revamp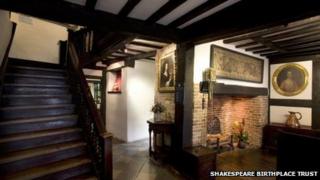 The site of Shakespeare's last home in Stratford-upon-Avon is to be revamped in time for his 400th anniversary.
The Shakespeare Birthplace Trust have been asking members of the public on its plans for New Place, the site of the home where the bard died in 1616.
Conservations work would also be carried out on Nash's House - next door to New Place - and and the gardens nearby restored, said the trust.
A spokeswoman from the trust said the plans are estimated to cost £3.5m.
The trust said Shakespeare lived at New Place when he was not in London and where he spent the last 18 years of his life.
It was demolished in the 18th Century.
Ideas for the revamp of New Place include creating an outline of the structure of the house over its foundations "to create a sense of the shape and scale of it," said the trust.
Disabled access and restrooms would be improved at Nash's House, where visitors currently enter to get to the site of New Place and is named after the first husband of Shakespeare's granddaughter.
Temporary site closure
Once plans are finalised, the trust plans to apply for funding later this year with a view to work starting in the autumn of 2014.
The site would be shut until 23 April 2016 - the date of Shakespeare's birthday - in order for the work to be carried out.
Mark Armstrong from the trust said: "Our aim is to create an exceptional space as a lasting legacy to commemorate the 400th anniversary of Shakespeare's death.
"We want to involve all parts of the Stratford community - and everyone with an interest in this important site at the heart of our town - in helping us shape the future of New Place."
Members of the public can give their opinion on the plans online and in person at the last on three consultation session on Friday.