Daw Mill miners could lose £22,000 in payouts claims union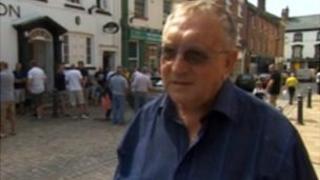 Some former miners from Daw Mill Colliery in Warwickshire could lose up to £22,000 of their redundancy payouts, unions have claimed.
The fire at the deep coal mine in February forced its closure, putting staff at risk of earlier redundancy.
On Tuesday UK Coal confirmed 120 Daw Mill workers had been transferred to other mines it owns but about 350 would be made redundant.
Unions have also said workers could lose 10% cent of their pensions.
The Union of Democratic Mine Workers held a meeting for more than one hundred workers to discuss their futures.
Tom Gay, from the union, said: "We've reviewed what has happened since the fire and met with the administrator [of UK Coal].
"Because UK Coal has gone into administration, staff losing their jobs will only get statutory redundancy [of £12,000] so could lose between £18,000 and £22,000 in payouts.
"They would have got around £31,000 had the firm not been in administration."
Mr Gay also said that across the industry, miners' pensions would be put into a protection fund but could stand to lose out on 10%.
UK Coal has said it had "difficult decisions" to make and confirmed a pensions deficit of about £500m.
A spokesperson from UK Coal said most Daw Mill workers would lose about £11,000 in redundancy money and confirmed they would get 90% of their pensions.
"It could have been much worse if it wasn't for the pension protection fund," he said.
Former workers already in receipt of their pension will continue to get the full amount, said Mr Gay.
He added 70 workers made redundant from Daw Mil had found other work within the mining industry.