Daniel Pelka murder trial: Mother tried 'to hide bruises'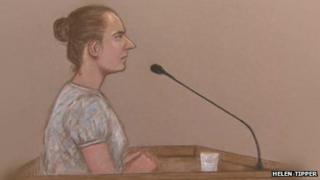 A mother accused of starving and murdering her son has told a court she avoided taking him to a doctor because he was always covered in bruises.
Magdelena Luczak claimed four-year-old Daniel Pelka was mistreated by his stepfather, Mariusz Krezolek.
Daniel died in hospital in Coventry on 3 March 2012 from severe head injuries.
The pair deny murder and causing or allowing the death of a child in the trial at Birmingham Crown Court. They have admitted a charge of cruelty.
'Lots of bruises'
Giving evidence for a second day, Ms Luczak, 27, was questioned by Mr Krezolek's barrister about why she had not taken Daniel to a doctor as he lost weight.
She responded: "Because Daniel would always have a lot of bruises.
"I tried to make it secret, what was happening to him. That is why I didn't go to the doctor."
Mr Krezolek's QC, Nigel Lambert then asked Ms Luczak: "Why on earth would you do that to your son?"
Speaking through a Polish interpreter, Daniel's mother, who came to the UK in 2006 replied: "I don't know it myself. I don't understand my behaviour.
"It wasn't me, it was Mariusz but I knew what was happening. I myself don't understand my actions. I must have loved Mariusz to allow such a thing."
Ms Luczak told jurors yesterday that her partner also tried to strangle her as he twice attacked Daniel in their home.
She said she witnessed the separate assaults on 1 March last year, two days before an ambulance was called for the boy.
'Calculated and manipulative'
Mr Lambert asked the four-year-old's mother why she had not told the truth to police after she had been arrested with her partner.
Ms Luczak said: "Because I should have called the police after Mariusz hit Daniel on the head. I should have checked on him.
"I don't know what I was driven by when I was not telling the truth. I wanted to make it secret, all that took place.
"I was guilty myself and I shouldn't have allowed Mariusz to treat Daniel like that."
Mr Lambert described Ms Luczak's evidence as "nonsense" and put it to her that she had acted in a "calculated, manipulative and deceitful way" during police interviews to cover up her own "terrible deed" in killing Daniel.
"I did not kill my child," Ms Luczak answered.
Mr Lambert suggested Daniel's mother, and not his stepfather, had been in the "driving seat" during the four-year-old's ill-treatment.
Ms Luczak rejected the claim and said: "If I think soberly about it, I should have left but I didn't do it.
"I always gave him a chance. I wanted the relationship to work."
Ms Luczak was then asked why she had not informed staff at Daniel's school what was happening to the four-year-old.
"They would blame me," she replied.
"They would say that for so many months he was hit and I have not notified them about it.
"I should have done it but I didn't do it."
The trial continues.