Sky Blues fans march to keep Coventry games in the city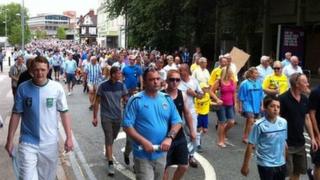 Thousands of people have taken part in a march in support of Coventry City football club playing their home games in the city.
The club has been in administration since March and has agreed a groundshare at Northampton's Sixfields Stadium for three seasons.
Supporters group The Sky Blue Trust organised the march, which began in Gosford Green and ended in Broadgate.
The trust said, "the message is simple, keep Coventry in Coventry".
Following the march and rally, the trust tweeted that they estimated attendance at between "5-7000 at peak".
It was led by two people acting as a Lady Godiva figure and a rally was held in Broadgate with speeches and music.
Those in attendance included West Midlands MEP Nikki Sinclaire, Coventry North East MP Bob Ainsworth and Dave Nellist.
Ahead of the march, Moz Baker from the Sky Blue Trust said: "We've already been contacted by people who support other clubs.
"[They] said there'll be joining us today and also people who haven't actually necessarily got an interest in football, but have got an interest in the city of Coventry."
The League One club has been based at the Ricoh Arena since 2005.