Daniel Pelka murder: Safeguarding boss says staff 'must not be fooled'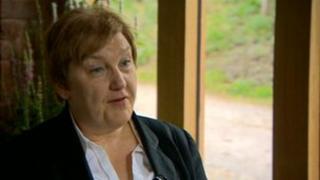 Teachers and social workers need to ensure their judgements are not distorted by what they are told by parents, the chair of Coventry Safeguarding Children Board has said.
Amy Weir was speaking after Magdelena Luczak and Mariusz Krezolek were jailed for life for the murder of four-year-old Daniel Pelka.
Luczak, 27, and Krezolek, 34, must serve a minimum of 30 years each.
The judge said they were responsible for "incomprehensible brutality".
Daniel died from a head injury in March 2012 but had also been starved and subjected to cold water punishment.
Mrs Justice Cox at Birmingham Crown Court said Luczak and Krezolek, who lived in Coventry, had lied to the authorities "to prevent interference by school, medical and welfare personnel".
A serious case review is being held by Coventry's Safeguarding Children Board to look at the actions of police, social services and other agencies.
'Conspiracy'
Ms Weir said often in cases such as Daniel's the focus on the child gets lost, with professionals looking at them "through the lens of what the parent wants them to believe and see".
"I think that was very clear in this case," she said.
"We have to find ways of empowering professionals to be more challenging to know that's what they can and should do. I think that's across all of these cases."
She said both Luczak and Krezolek knew what they were doing.
"There was almost a conspiracy to keep everybody else at distance - I think that must have been difficult."
She said there needed to be an exploration into why teaching and health staff did not do more in Daniel's case.
The safeguarding children board's report - which is being reviewed in light of the trial - is due to be published in six weeks.