Daniel Pelka memorial placed in ruins of Coventry Cathedral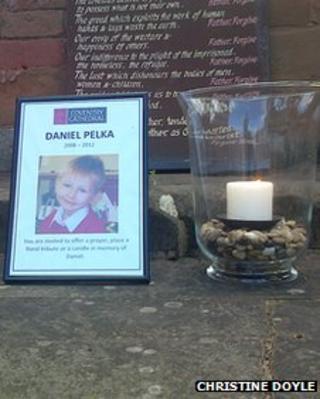 A memorial has been placed in the ruins of the old Coventry Cathedral for murdered four-year-old Daniel Pelka.
Daniel was beaten and starved by his mother and stepfather at their Coventry home before his death last year.
Magdelena Luczak, 27, and Mariusz Krezolek, 34, were jailed for 30 years each earlier this month.
A cathedral spokesperson said it was "pleased to respond to requests from the public" and has placed a photograph and candle by the stone altar.
The Very Rev John Witcombe, Dean of Coventry, said: "I believe the ruins are the ideal place for remembering Daniel.
"They are a place for recognising the brokenness of the world and a place to gather to commit ourselves to God and one another for a better future for all."
Daniel was also remembered in the cathedral's service, Remember our Child, which is a monthly service for families who have suffered the death of a child.