Daniel Pelka murder: 'Outraged' public donate £11,000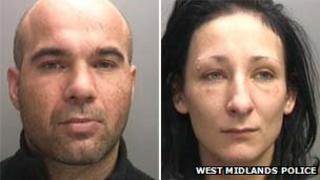 Outrage over the Daniel Pelka case has prompted people to donate almost £11,000 to the NSPCC, the charity has said.
It has received £10,978 since the four-year-old's mother Magdelena Luczak and her lover Mariusz Krezolek were convicted of his murder last month.
More than 600 people have contributed to the funding pot so far.
Daniel, from Coventry, died from a head injury in March 2012. Luczak, and Krezolek each received life sentences.
An NSPCC spokeswoman said: "To date, over 600 people have been moved to donate a total of £10,978 to the NSPCC in Daniel Pelka's memory.
"This horrific case has understandably caused a huge sense of public outrage that Daniel should have endured so much cruelty during his tragically short life."
Daniel had been starved by Luczak and Krezolek and weighed just over a stone-and-a-half when he died.
Luczak, 27, and Krezolek, 34, were sentenced to a minimum of 30 years after being found guilty of murder.
The judge described the couple's treatment of Daniel as "incomprehensible brutality".