George Eliot hospital takeover plans approved by government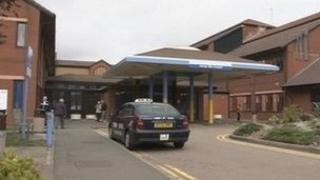 Plans which could see a private firm run a Warwickshire hospital have been recommended for approval by the Department of Health.
The NHS Trust Development Authority (NTDA) said the George Eliot Hospital in Nuneaton could be taken over by "a non-NHS organisation" or another trust.
It was put in special measures earlier this year because of major failings.
The NTDA will decide whether to advertise for bids for the running of the hospital at a board meeting later.
If the hospital was to be taken over by a private company, it would become the second in two years after Circle Health took over the running of Hinchingbrooke Health Care Trust in Cambridgeshire in February 2012.
The NTDA board paper said it would be "prudent" for services at the George Eliot hospital to be run by a "strategic partner" by April 2015.
It said that "an open procurement process" should take place in order to attract proposals from another NHS trust or private companies.
The George Eliot Hospital NHS Trust provides hospital and community services for about 290,000 patients.
The hospital had the highest death rate in England in 2011.
It was one of 11 trusts placed into special measures in July following a national review of mortality by the health service's medical director, Sir Bruce Keogh.
The trust said it had been seeking a partner "via a competitive procurement process" for several months.
A statement on the trust website said: "We are not in the position to achieve foundation trust status as a standalone organisation, due to financial and clinical considerations. "
It said merging with another trust or a private company was "the most appropriate option".