Garden fork killer Anthony Hall jailed for Rhoda Youson murder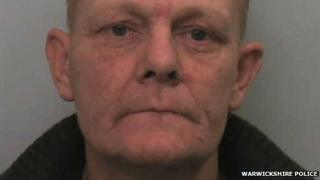 A homeless man who murdered a "frail" grandmother using a garden fork and a baseball bat has been jailed for life.
Rhoda Youson, 57, was found dead at her home in Dugdale Street, Nuneaton, in November last year.
Anthony Hall, 48, of no fixed address, was convicted of murder and will now have to serve at least 21 years.
Warwickshire Police said she had been "ferociously attacked" in her bed by Hall and suffered severe facial and head injuries.
Hall was convicted in July after a jury rejected his claim of diminished responsibility due to mental disability.
Birmingham Crown Court heard he attacked Ms Youson in the early hours of 24 November. Afterwards he used her cash card and bought a takeaway meal.
Passing sentence at Birmingham Crown Court, Judge Patrick Thomas said Hall had shown "a complete willingness to destroy a life".
"The reality of this case is that the lady whom you killed was small, frail and ill," he said.
"She was a lady who demonstrated to the end of her days - to others but also to you - levels of generosity and care that are apparent to all.
"I am satisfied that the motive for this was your desire to have her bank card so that you could use it, as you did."