George Eliot Hospital to be run by private sector?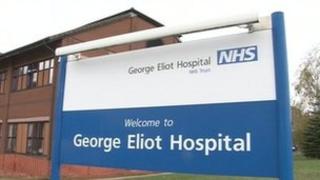 Plans have been approved by the government that could lead to Warwickshire's George Eliot Hospital being run by a private company.
A tendering process to find a partner for the struggling hospital was given the go-ahead by the NHS Trust Development Authority on Thursday.
But do patients really care if a private firm takes over the reins at an NHS hospital?
Bob Edwards, former secretary of Nuneaton People's Protest Group, which previously campaigned against changes to services, said he suspected local people were "in the dark" over what the "strategic partnership" actually meant.
"Is it someone who comes in with big demands at our expense, that is my concern," he said.
As yet there is little evidence of overwhelming local opposition to the move, while across the country, public opinion has been largely untested on the issue.
'Green shoots'
Hinchingbrooke in Cambridgeshire is currently the only hospital in the country to be managed by the private sector.
Its chief executive Dr Hisham Abdul Rahman said that before Circle Health took on the hospital in February 2012 it had run up debts of £40m.
He said the hospital was "still on a journey", but that there were now "green shoots".
Dr Rahman said several services had been reinstated and A&E was now "consistently one of the best in the country".
He said managers from the private sector often brought a different way of looking at things and a better connection with staff.
"The NHS through the years has become a very unworkable operation. Everything has to be done within the NHS way, within the NHS learning and experience," he said.
Financially, less ground seems to have been made at Hinchingbrooke.
Six months into its tenure, Circle announced losses of £4.1m, almost double those forecast.
'Basket case'
Former Labour MP for North Warwickshire and ex health minister Mike O'Brien believes following Hinchingbrooke's example would be a mistake.
He said: "When I was health service minister I had to look at Hinchingbrooke and frankly it wasn't just a failing hospital, it was a basket case.
"I'm not actually that critical of the Conservatives for deciding to do something at Hinchingbrooke. What I am critical about is that you don't need to do it at the George Eliot."
The tendering process was effectively started after the hospital board admitted it would fail to attain foundation trust status by the government's deadline.
Other NHS trusts are invited to tender to run it and the BBC understands a number in the region intend to put in bids, either on their own or, in the case of the South Warwickshire trust, in partnership with the private sector.
Mr O'Brien has started a petition opposing the possible involvement of a company and said almost 500 people had so far signed.
He admitted, however, that historical problems in both care and finances at the George Eliot might temper local residents' opposition to the move.
In July, it was one of 11 hospitals in the country to be put into special measures after a review by Sir Bruce Keogh found major failings.
Instances of high mortality rates date back to 2001 and in 2011 it had the highest death rate in England.
In recent years, the hospital has been running a deficit of £5m a year and this year is expected to need a grant of £7.9m to bail it out.
Mr O'Brien said there was "nothing a private sector manager can do that a public sector one can't" and that a firm would inevitably focus on its profits and shareholders "ahead of patients".
It is a view shared by Dr John Lister, Senior Lecturer in Health and Policy at Coventry University.
"It seems to me the NHS is very capable of innovating and improving services, given the right resources to do so and I don't think the George Eliot has," he said.
"No private company is going to be able to wave a magic wand, keep everything intact, save £5m a year and make a profit."
The Department of Health said: "It's right that patients should get the best service, regardless of who provides it.
"What is most important is that patients at George Eliot Hospital can access sustainable, high quality care and treatment for years to come. No decision has yet been made and this process is open to both NHS and non-NHS organisations.
"The trust will choose the best solution for local patients."
Kevin McGee, chief executive of George Eliot Hospital, said it would choose a partner that would protect local services.
Whichever partner the trust chooses, they will not take control until April 2015.
Mr O'Brien believes the delay itself will harm the hospital, with managers "distracted" by possible partnerships, rather than tackling the day-to-day difficulties facing the hospital.