Coventry War Memorial Park travellers 'to be evicted'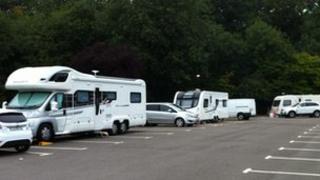 A group of travellers who have set up camp in a Coventry car park will be evicted, the city council has said.
Several caravans and other vehicles arrived at the War Memorial Park car park on Thursday and Friday.
A Coventry City Council spokesman said an eviction notice would be issued ordering the group to leave the site by Wednesday.
One traveller told the BBC they would go if issued with the notice and would not stay long term.
The vehicles have been sited on an area of about 30 spaces in the free 400-bay car park, which usually only opens in daylight hours.
Syd Feegrade from the Friends of the War Memorial Park said he was "pleased to hear that they don't intend to be there permanently", as it "isn't right to be in the car park at night".
"We all make a lot of effort to get out of that car park before the gates shut and that's what they should do," he said.
"If they want to be there during the day, that's their right, but certainly not at night."