Karl Clay: Coventry child rapist jailed for life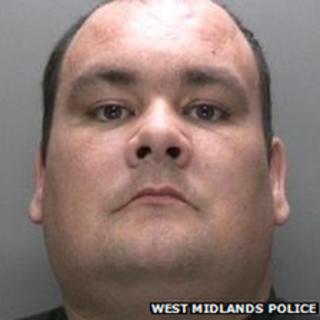 A serial sex attacker has been jailed for life for a string of violent sexual assaults on women and children.
Karl Clay, 39, from Wood End, Coventry, raped two children and attempted to suffocate and drown two women.
He doused three people, including two children, in lighter fuel and threatened to set them alight.
Judge Sylvia de Bertodano, sentencing at Leamington Justice Centre, said he should serve a minimum of 15 years behind bars.
'A monster'
In July, Clay was found guilty of 13 charges including raping children and attacking and threatening children and adults over a 16-year period from 1991.
These include indecent assault of a child, causing a child to engage in sexual activity, harassment and actual bodily harm.
Det Insp Christopher Hanson said: "Karl Clay is easily the vilest offender I have ever dealt with in the 21 years that I have been a police officer and his victims have been terribly brave in giving the evidence that was crucial in convicting him.
"This was an absolutely horrendous case that has deeply affected everyone who has worked on it. Clay stopped at nothing and Coventry is a safer place with him off the streets."
The detective said he was convinced there were more victims of Clay who had not yet come forward.
"There are periods of Clay's life we know very little about," he said.
"He's a monster guilty of horrendous crimes and I'm certain there are more people who have suffered at his hands."