Warwickshire 'new town' plans scaled back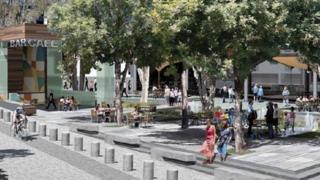 Plans to build a "new town" in south Warwickshire have been scaled back following concerns from businesses.
The original proposals to build 4,800 new houses west of the M40, between Gaydon and Chesterton Wood will now include about 3,000 homes.
The changes follow consultation with local businesses, including the nearby Jaguar Land Rover (JLR) plant.
Stratford District Council will vote on the changes on Monday.
In September, JLR said it was against the plans because it may need some of the land for future developments.
In addition, proposals to devote part of the site to employment-related development and build three new schools have now been scrapped, with just one primary school planned.
'Housing ghetto'
Laura Steele, chair of Friends of a Rural and Sustainable Environment (Forse), the residents' group which is fighting the scheme, said: "On the face of it, you would expect us to be happier.
"The amount of housing has gone down but all the facilities and amenities are also disappearing by the second.
"The council has offloaded the jobs aspect of the scheme to JLR, which may or may not happen.
"This is going to be a housing ghetto. If this ill-thought-through scheme goes ahead, there are going to be people in an isolated, car-dependent corridor next to the M40, which is a wholly inappropriate place to build houses."
The council said the revised proposal, which was "markedly different", had come about as a result of consultation.
It said: "These discussions have culminated in a revised development proposal coming forward that would enable JLR to expand its current Gaydon site.
"The capacity of the site to accommodate new housing is, as a result, significantly reduced."
Richard Burke, from developers Commercial Estates Group, said the site would be designed as a "garden village" and would provide employment, shops, school, healthcare facilities and a 150-acre country park.
"Housing numbers have reduced in order to accommodate the expansion space required by JLR," he said.
"As a result of the reduced number of homes the size of facilities, such as schools, have reduced accordingly but other community provisions are still included within the proposals."