Daniel Pelka case 'could happen again' says council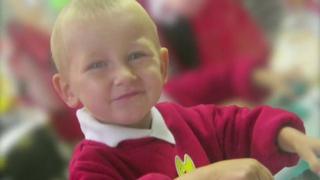 The head of the social care department that "missed chances" to save the life of a boy has said he could not rule out a similar case happening in future.
Daniel Pelka, from Coventry, died in March 2012, after being starved and abused by his mother and her boyfriend.
In September, a serious case review found Daniel, four, was "invisible" at times to police, NHS and social care.
Brian Walsh, of the city council, said the authority faced a "massive challenge".
'Care not a science'
Mr Walsh said: "I could never give assurances this could never happen again.
"Social care is not a science. All we can do is be clear about our requirements and ensure professionals are properly supported."
The comments were made in a council meeting to evaluate what progress had been made in meeting the review's 15 recommendations.
Daniel died at the hands of his mother, Magdelena Luczak, 27, and her partner Mariusz Krezolek, 34. The pair were convicted of his murder in July.
The council is currently undergoing a four-week Ofsted inspection of its social care services.
Mr Walsh said the results of the inspection may determine the future of the department.
'State of shock'
He said he needed to manage "the massive challenges we have as a council to manage our budgetary pressures" alongside expectations society has about keeping children safe.
He added the council had seen an "exponential increase" in the number of referrals since the Daniel Pelka case but had taken on additional resources to manage it.
The council heard from Amy Weir, head of Coventry's Local Safeguarding Children Board (LSCB), that there had been "significant activity" to make changes but there was still "huge chunks of work" to do.
"We need to speed up in my opinion," she said. "It's been very difficult and there was a long period where local services were in a state of shock."