Nuneaton riding school rent row legal decision delayed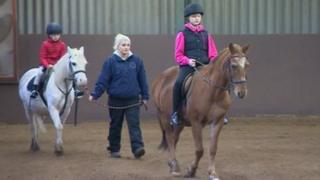 Owners of a riding school for disabled young people fear for its future after a judge delayed a rent decision.
Nuneaton and North Warwickshire Equestrian Centre's case against council landlords was heard at Birmingham County Court on Thursday.
Nuneaton and Bedworth Borough Council has refused the centre's lease renewal, believing it is run as a business and its charity rent no longer applies.
School trustee Jean Miller, said having to fight the legal battle was "sad".
Her right to fight for a new lease has been questioned by the council, who said she is a third-party occupier and not one of the original trustees named on the Galley Common site lease.
If the judge decides she can pursue the case, legal arguments will resume on whether the lease should be renewed.
Ms Miller - who is receiving free legal representation - said she believes it is "wrong" the council has used taxpayers' money in court.
"This could have been overcome if the council had taken a pragmatic approach to this at a much earlier stage," she said.
"They're clever people, they represent us, they could have quite easily just have dealt with this in a different way. It's quite sad really"
Nuneaton & Bedworth Borough Council said it could not comment until the hearing had concluded.
Councillor John Haynes, who originally set up the riding school, has previously said its operators would be welcome to pay a commercial rent for the site.
The riding school, which is a registered charity, runs sessions for disabled riders three days a week in addition to lessons at other times.
It is also a Pony Club member and offers lessons, competitions and trekking for non-disabled riders.
A judgement from the county court is expected within three weeks.