RSC asks public to help shape The Christmas Truce war play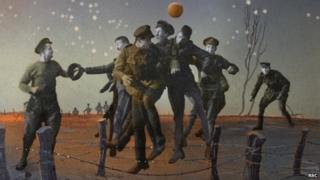 People with relatives who fought in World War One have been asked to help shape a new play.
The Christmas Truce, to be staged by the Royal Shakespeare Company [RSC], will draw on true stories of soldiers.
Those with family memories were encouraged to bring photos and letters to an event at the Royal Shakespeare Theatre, Stratford-upon-Avon.
Phil Porter is writing the play, which will open in late November, the RSC said.
The play is inspired by real events "when soldiers along the Western Front left their trenches on Christmas Eve to meet their enemies in No Man's Land to talk, exchange gifts and play football", the company added.
The drop-in event was also a chance for people to find out how to research their family's involvement with the conflict.
The initiative, Sharing Stories Of The Great War, began at 10:00 GMT at the Royal Shakespeare Theatre.