Coventry Grace Academy branded 'inadequate' by Ofsted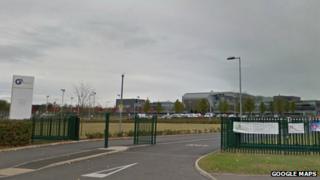 The first school in Coventry to be turned into an academy has been branded inadequate by inspectors and put in special measures.
Grace Academy was previously rated "good" but has now received the lowest rating on Ofsted's four-point scale.
A report described the sixth form as "inadequate", teaching as "uninspiring" and said large numbers of pupils were excluded due to poor behaviour.
Interim principal Colin Boxall said steps to improve had been taken.
'Considerable steps'
The report, which followed inspections on 29 and 30 January, classed the school as inadequate in four key inspection areas and said standards were "below average".
It said teaching "failed to motivate and interest students" and that work set was either too easy or too hard.
But it praised interim principal Colin Boxall, who took over from Nick Marshall in December, saying he had "already started to tackle weak leadership and teaching".
Mr Boxall said he only been at the school a few weeks when he found out Ofsted was coming and said "considerable steps" had already been taken to improve.
"We are certain in three years we are going to be one of the best schools in Coventry," he said.
Woodway Park School became an academy in 2008. It is part of the Grace Academy Multi Academy Trust.
It consists of two other schools: Grace Academy Solihull, which was branded inadequate in October, and Grace Academy Darlaston, which inspectors said in September required improvement.