Walsall boy's stabbing 'not predictable'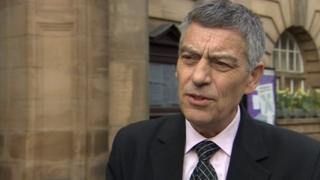 The stabbing of a boy at his home could not have been reasonably predicted, a serious case review said
But, Walsall Council admitted the level of support given to the child and his family before the incident in March last year was unacceptable.
The independent review made 43 recommendations for the council, local NHS organisations, West Midlands Police and ambulance service.
The unnamed boy, 9, had back, leg and arm injuries, but has since recovered.
His family had been known to various statutory and voluntary agencies for several years, the council said.
Bleeding profusely
The review document details how in March last year, the boy, a Bangladeshi, was taken to hospital with a 1cm (0.3 inches) cut on his neck. He later admitted his 42-year-old father was responsible.
Police began a criminal investigation and the boy's mother, 34, agreed that the child's father would stay away from their home.
Nine days later, she called West Midlands Ambulance Service to say she had seen blood coming from her son's back and that he was bleeding profusely.
Officers from the Child Abuse Investigation Unit and social workers went to the home and the child and his siblings were taken to hospital.
His injuries were consistent with being stabbed. The remaining children were unhurt, the council said.
The review indicated that after police concluded their investigation the Crown Prosecution Service decided there was insufficient evidence to prosecute anyone "for what is still believed to be an assault".
'Prevent further trauma'
However, it concluded that there were "a number of systemic weaknesses or individual failings".
"Whilst psychological damage was a predictable result of the marital discord and insufficiency of attention afforded the children, the two incidents in March 2013 could not have reasonably been predicted," it stated.
"The second incident however, might have been avoided.
"A more effective response at the time of the first wounding, including an application for Emergency Protection Orders and instigation of care proceedings might [if successful] have prevented his further traumatic experience."
All children are now in care, the authority said.
Robert Lake, from Walsall's Safeguarding Children Board, said it was "unacceptable" that the child and his family were not well supported.