Daniel Pelka abuse petition gets 100,000 signatures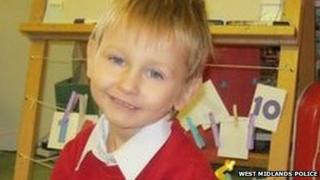 The number of people supporting a call for the reporting of suspected child abuse to be made mandatory has hit the 100,000 mark.
An online petition was launched in the wake of the Daniel Pelka case.
Daniel, four, died of a head injury after being beaten and starved by his mother and her boyfriend at their home in Coventry.
The level of support for the petition means the issue could now be debated in Parliament.
'Taken seriously'
In August Daniel's mother, Magdelena Luczak, 27, and her boyfriend, Mariusz Krezolek, 34, were jailed for his murder. Despite the concerns of teachers and doctors, there was no intervention by child protection agencies.
The petition was started by Paula Barrow, a mother-of-two from Manchester, who said she wanted a new law removing "uncertainty" over how professionals should act.
She said she was "very encouraged" by the response to the petition and felt confident the campaign was being taken seriously by ministers.
'Open dialogue'
She said the number of signatures had risen dramatically following Education Secretary Michael Gove's confirmation, in March, that the government was considering mandatory reporting.
She said that the campaigners were now having an "open dialogue" with the minister.
"Signatures for Daniel's Law increased dramatically because it was recognised the right people were starting to pay attention," she said.
Alexandra Runswick, director of Unlock Democracy, a campaign for rights and freedoms, said the number of signatories did not necessarily mean Daniel's Law would be debated by MPs. "People assume that if they get 100,000 signatures, it is an automatic trigger for a debate but unfortunately the system we have doesn't do that," she said.
"What it does mean is the Backbench Business Committee has to consider [the petition]."
Several charities support the petition. Fay Maxted, chief executive of The Survivors Trust, said: "If law is introduced, staff will have no doubt what to do, and they would have legal protection from recrimination."