Shakespeare's 450th birthday parade held in Stratford-upon-Avon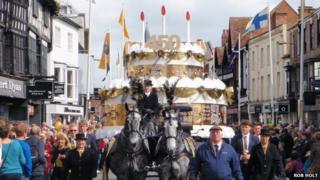 More than 2,000 people have marched through William Shakespeare's home town to mark his 450th birthday.
The parade through Stratford-upon-Avon, where the Bard was born in 1564, was led by a 20ft puppet of Lady Godiva, created for the London 2012 Olympics.
Flowers were laid on Shakespeare's grave in the Holy Trinity church by local schoolchildren.
The Royal Shakespeare Company held storytelling sessions, stage fighting workshops and musical performances.
It said the town had annually celebrated Shakespeare's birthday since 1824.
The birthday parade along Bridge Street included marching bands, actors dressed as Shakespearean characters and a giant birthday cake carried on a horse and carriage.
Lynn Beddoe, from the Shakespeare Birthplace Trust, said: "Today has been the culmination of a fantastic week of birthday celebrations.
"We always knew the eyes of the world would turn to Stratford for the 450 years celebrations. It's been a whole town effort of which people should be thrilled and proud."