M6 Toll closed after lorry fire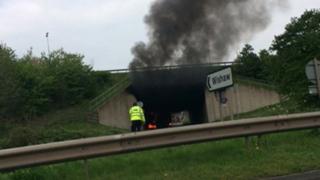 The M6 Toll motorway was closed in Warwickshire after a lorry caught fire under it on the A446.
It happened at 08:18 BST, causing severe disruption and leaving both the motorway and A446 closed for much of the day.
Two lanes have now reopened in both directions between junctions T3 and T2 of the M6 Toll.
The third lane is not expected to reopen until Thursday, the Highways Agency said.
The A446 has reopened southbound, but one lane remains closed northbound between Dunton roundabout and Coleshill, due to emergency repairs.
The Highways Agency said engineers had carried out a structural inspection on the motorway at the point it passes over the A446 to check for any damage caused by the fire.