Warwickshire 'new town' plans get council backing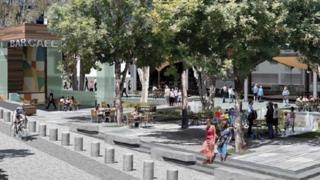 Plans to build a "new town" in south Warwickshire have been backed by councillors despite protests.
The proposals to build 3,000 new houses west of the M40, between Gaydon and Chesterton Wood, have been included in Stratford District Council's core planning strategy.
The strategy has been submitted to the government for approval.
Campaigners have described the town as a "housing ghetto" but the developers said it will be a "garden village".
'Hugely important'
If approved, the council said 2,500 homes would be built by 2031.
The site will adjoin 135 hectares of "employment land", including space to support the expansion of the Gaydon site of Jaguar Land Rover (JLR).
The plans were agreed at a meeting of the full council and will now go to public consultation for six weeks, before being forwarded to a government inspector.
Dave Nash, the council's policy manager, said the strategy was "hugely important".
"Ultimately it lays out the vision of how Stratford-on-Avon District could look in 2031," he said.
Before the decision, Laura Steele, chair of the residents' group which is fighting the scheme, said the plans would produce a "housing ghetto".
"If this ill-thought-through scheme goes ahead, there are going to be people in an isolated, car-dependent corridor next to the M40, which is a wholly inappropriate place to build houses," she said.
However Richard Burke, from developers Commercial Estates Group, said the site would be designed as a "garden village" and would provide employment, shops, school, healthcare facilities and a 150-acre country park.