Roman finds brought back to Coventry after 50 years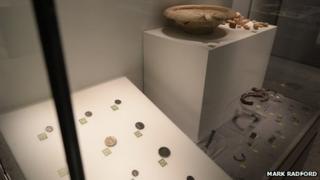 Finds from a Roman fort near Coventry are being returned to the city for the first time in 50 years.
The objects, from the Lunt fort at Baginton, form part of a new Roman exhibition at the Herbert Art Gallery and Museum.
The collection includes a decorated sandstone column, a silver pin and a bronze brooch.
The gallery is one of four UK venues to host the exhibition, which will display 160 artefacts from the British Museum.
The exhibition Roman Empire: Power and People will run until 31 August.
It will then tour to Leeds, Dundee and Wallsend, in Tyneside.
Paul Thompson, keeper of collections at the Herbert, said the exhibition was a "unique opportunity to showcase objects not seen by the public".
The Lunt fort, in use from AD60 to 80, is believed to have been built during the revolt of Boudica.
A spokesperson said: "The Lunt objects were found in the 1960s and this is the first time we've been able to put them on display."