Motofest: Coventry 'could be England's Monaco' organisers say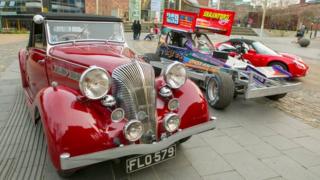 A Coventry motoring festival could turn the city into England's answer to Monaco, according to the organisers.
The first Coventry MotoFest will see the closure of part of the city's ring road on 1 June for a vehicle parade.
However, festival director James Noble said he hopes a change in the law will allow future festivals to use the ring road as a race track.
The Department for Transport said it was consulting on plans to allow motor sport events on public roads.
'Ring road racing'
Mr Noble said the festival, which will include stunt exhibitions by Triumph motorcycles, stock car demonstrations and a display of cars in the ruins of Coventry Cathedral, will run from 30 May to 1 June.
He said the ring road parade, designed to celebrate the 40th anniversary of the route's opening, would include classic cars, rally demonstrations and motorsports vehicles.
"Coventry's ring road is definitely unique," he said. "You either love it or you hate it but we see it as a natural circuit.
"It should be a real asset to the city. There's no reason why Coventry could not be like Monaco, which is famous for its Grand Prix. I doubt we would get Formula 1 here but I hope Coventry could become a centre for motor sports."
The event is supported by the city council and the local enterprise partnership.
The ring road will be closed to the public in an anti-clockwise direction between 09:00 and 17:00 BST on the day of the parade.
Mr Noble, who said the festival will be an annual event, added: "This year, the parade will be sticking to the ring road's 40mph speed limit. Longer-term, if there's a change in the law, we could see racing on the ring road."
The government said it was consulting over plans to allow councils to relax speed limits on roads to stage motor sports events.
Roads minister Robert Goodwill said: "This consultation opens up the possibility for these type of events to take place across the country."